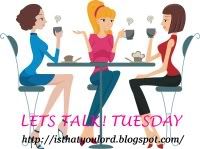 Here we go with some randomness...
1. I want to lose a few pounds....maybe giving up candy and desserts will help! lol
2. My hubby turns his nose up at my tuna pasta salad and I turn up my nose at his smoked salmon.
3. I am finding out that I really appreciate texting.
4. It is easy & important to stay in touch with people we care about.
5. Loved
Sanctus Real
~unplugged concert at our church last week! It was a fun and blessed evening. Many thanks to them!
6. Found this cute windchime at
Cracker Barrel
.
7. This past Saturday my nephew Josh got married! Congrats Josh & Kari!
8. Love my parents....
9. I am really looking forward to Autumn.
10. God's Grace is sweet & amazing
Be blessed
xoxo
~pam~